What is the difference between accounting and bookkeeping?
You are probably not the only one confused about the difference between accounting and bookkeeping. Corporate practice and daily transactions have muddled the nuance between the two. When it comes to financial matters, we tend to shy away from them because of their technical and jargonistic language, making it hard to understand much less give attention to them.
This is the reason why the distinction has never been addressed. Various professionals continue to interchangeably switch the two as loosely as possible. In this article, we shall settle this once and for all. This is to give clarity and at the same time, make sure that you are getting the correct services you need for your business requirements.
The good thing about bookkeeping and accounting is these are two interconnected disciplines with differing focuses but reinforce each other. Most importantly, businesses and management can benefit from it.
Fundamentally, bookkeeping is the practice of recording the financial transactions of a company. This means the flow of money is recorded to the strictest detail possible. Details such as purpose, the requester of budget, name, and date are recorded for this purpose. Meanwhile, accounting is the science of analysing all of these records. It goes beyond the mechanical recording of details and liquidating the budget from expenses.
While these explanations provide a good briefer, they will not do the trick, we would need to zero in to give you a more comprehensive understanding of bookkeeping and accounting.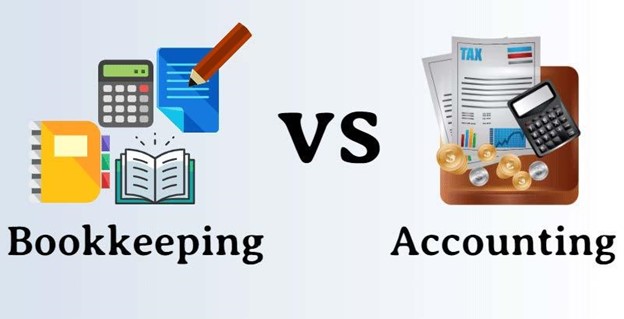 What is bookkeeping?
From the word itself, bookkeeping is keeping the books and ensuring it is updated with all the complete details included. Essentially, a bookkeeper just accounts for the details and checks its accuracy: purpose, requested budget, items purchased, serial numbers, computation of the money. In a nutshell, the dirty work of liquidating expenses. This is tricky and tedious as the details need to be as accurate and precise as possible. Slight errors will alter the system entirely and might result in a complete overhaul.
The usual tasks involved in being a bookkeeper are:
Maintaining the credit and debit records of the company ensuring they are consistent with financial receipts.
Keeping and documenting all financial transactions of the company across all its departments and lines of business.
Point person in creating financial statements and reports to be submitted to government offices and accountants.
Normally, small businesses do not need to hire a bookkeeper for this. There is a lot of bookkeeping software available which can be useful and practical for business owners. In the case of medium to large businesses, bookkeepers are essential as the amount of cash flow is huge, one person can't do it, much more the business owner.
What is accounting?
On the other hand, accounting as mentioned above is the science of analysing transactions. This is essential as most of the company's key decisions, investments, and direction are anchored in the data gathered from financial analysis. The key activities involved in accounting are:
Analysis and review of all financial documents and statements to make sense of business trends, state of the company and its future direction.
Craft decisive and calculated recommendations that can help improve the operations of the company at various levels.
Managing the taxes of the company.
Which is better?
Integrating the definitions laid out, bookkeeping allows businesses to have accurate, quality financial information, while accounting analyses this information and turns it into useful strategies that the company can adopt for its current and future undertaking. Having the two is crucial for any company. It depends mainly on your preference and capacity. Most business owners would like to be actively involved in the financial matters of the company. More often than not they take part in the bookkeeping process to keep track of the expenses. Others, just hire professionals to do it for them and just check the final report.
Hiring a bookkeeper and/or an accountant, which is best?
By now you already know the integral differences between the two. One requires a higher degree of education, while the other can be either a graduate of a vocational course or even a high school diploma with the right skills and attitude.
The responsibilities of a bookkeeper lie in the prudent record keeping of all financial transactions. Meaning to say, bookkeepers need to have excellent math skills and organisational skills allowing them to work on a lot of data, numbers and information. They must be able to work efficiently despite the various pressures present. Usually, bookkeepers are certified by labour departments to verify, train and evaluate their skills. These are usually free and they receive ample training in different accounting software and bookkeeping best practices.
On the other hand, accountants offer more strategic oversight. They do not just go through the numbers of your financial records but compare and juxtapose them in macroeconomic and microeconomic factors allowing business owners to carefully consider alternatives. Normally, accountants have a bachelor's degree in any field, which may not necessarily be accounting. Some are business administration graduates, others are economists.
Lastly, Certified Public Accountants are professionals who have passed the licensure examination of the government. These professionals have a bachelors degree major in accounting and often have to undertake annual examinations to maintain their licenses.
The major takeaway from this is that both bookkeepers and accountants contribute to businesses. It all depends on the needs and requirements of the company. For hands-on business owners of small to medium companies, accountants might be the most optimal choice to save money and resources. As for large organisations, having the two together in your team will create efficiency especially in seizing opportunities in investment and ensuring that resources are allocated correctly.
Good thing Nigel B Butler offers a complete accounting and bookkeeping package. You do not need to worry about differentiating the two. All you need to do is relax and let the experts handle all your financial matters.